About Thomas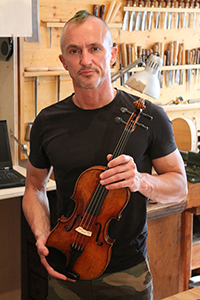 I was born on 20th of May in 1973 in Slupsk (Stolp), Pomorze (Pomerania), Poland
Since childhood it were my musical and craft skills which characterized me and therefore led me to my profession.
I became inspired in instrument construction in the 90s by Hans Cousto, a Berlin-based Swiss Harmoniker and researcher. Since then, I have gained experience in various renowned workshops in the field of Violin-Making.
I undertook my luthier apprenticeship in the master's workshops of Walter Mahr and Günter Lobe, both in Bubenreuth. I successfully took my master's exam in 2005 at the Chamber in Nuremberg.
I gained further practical experience and theoretical knowledge in violin making in the workshops of master luthier Cornelius Schneider-Marfels (Heßdorf) and Gerhard Klier (Neunkirchen). Master violin maker Peter Reisch, Günter Waldau and Gottfried Raab were also important teachers for me.
In order to improve and focus on certain aspects of my violin making, I undertook further training with Werner Paesold (Hochstadt), Adolf Buchner (Bubenreuth) and Francois Perego (Brienz / Switzerland).
My previous qualifications with a degree in design enabled me to produce drafts of customized instruments and analyse old models in order to produce.
I run a master workshop for violins in Berlin in the district of Alt-Treptow with a focus on new violin and viola construction, as well as repair and rental.
First place in the International Violin Making Competition in Náchod (Czech Republic) in the category solo sound
Hartmund Welscher (Van-Magazine) talks to master luthier Thomas Rojahn (german)
Article in the newspaper "Berliner Woche" (german):
Master Luthier Thomas Rojahn and his passion for his craft